DT1 Tennis Ball Feeding Machine
Product Detail
Feedback(86+)
Product Tags
DT1 Tennis Ball Feeding Machine
We're professional tennis training machine, tennis serving machine, launching machine manufacturers and suppliers in China. We have been specializing in providing high quality sporting goods since 2006. We warmly welcome you to buy our tennis feeder machine, tennis shooting machine, tennis launcher robot, feeding machine, throwing equipment for personal use or wholesale/distribute our tennis machines in your local market.
Are you still troubled with no partner to play tennis?
No worries, our tennis training machine will be accompanying you, making your training more effectively and efficiently, bringing you health and happiness!
Item Model: DT1
1. Tennis ball feeding machine.
2. Smart remote control with full function(speed,frequency,horizontal angle,spin).
3. Humanized design, internal serve direction, more practical training.
4. LCD display on remote control, easy to operate.
5. Internal battery last 3-5 hours.
6. Remote setting the depth of the two-line ball and three-line ball function.
7. One button to choose six kinds of cross-line ball.
8. One button to choose three kinds of deep-light ball serving.
9. Random function.
10. 6 kinds of topspin and backspin adjustment.
11. Standard accessories:remote control,charger,and power cable.
12. Capacity:150pcs.
Parameters:
1. Serving frequency: 1.8-8 seconds
2. Color: Red, Black and White
3. Default battery: built-in lithium battery
4. Power: 150W
5. Net weight: 22KG
6. Expanded size: 53*43*75.5CM
7. Packaged size: 53*43*52CM
8. Power: AC and DC power supply, AC 110V or 220V, DC 12V
9. Suitable for: individuals, schools, clubs, institutions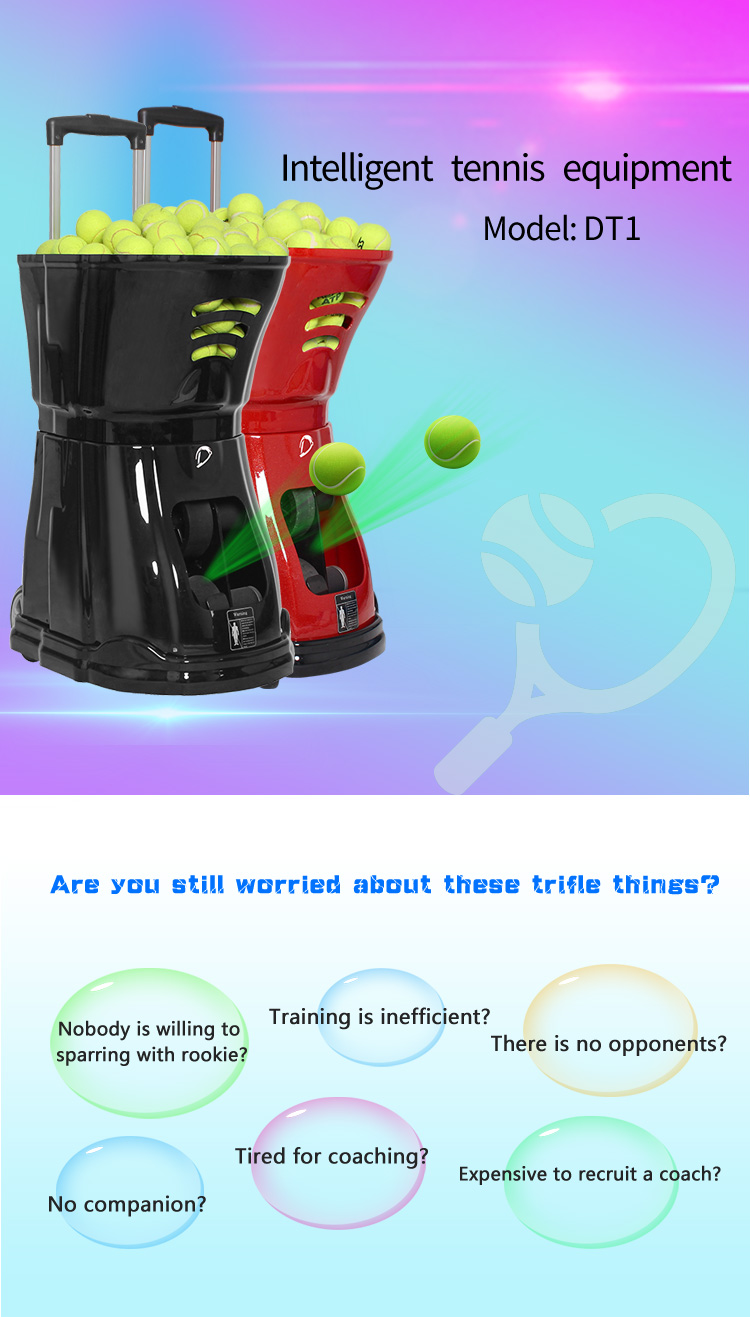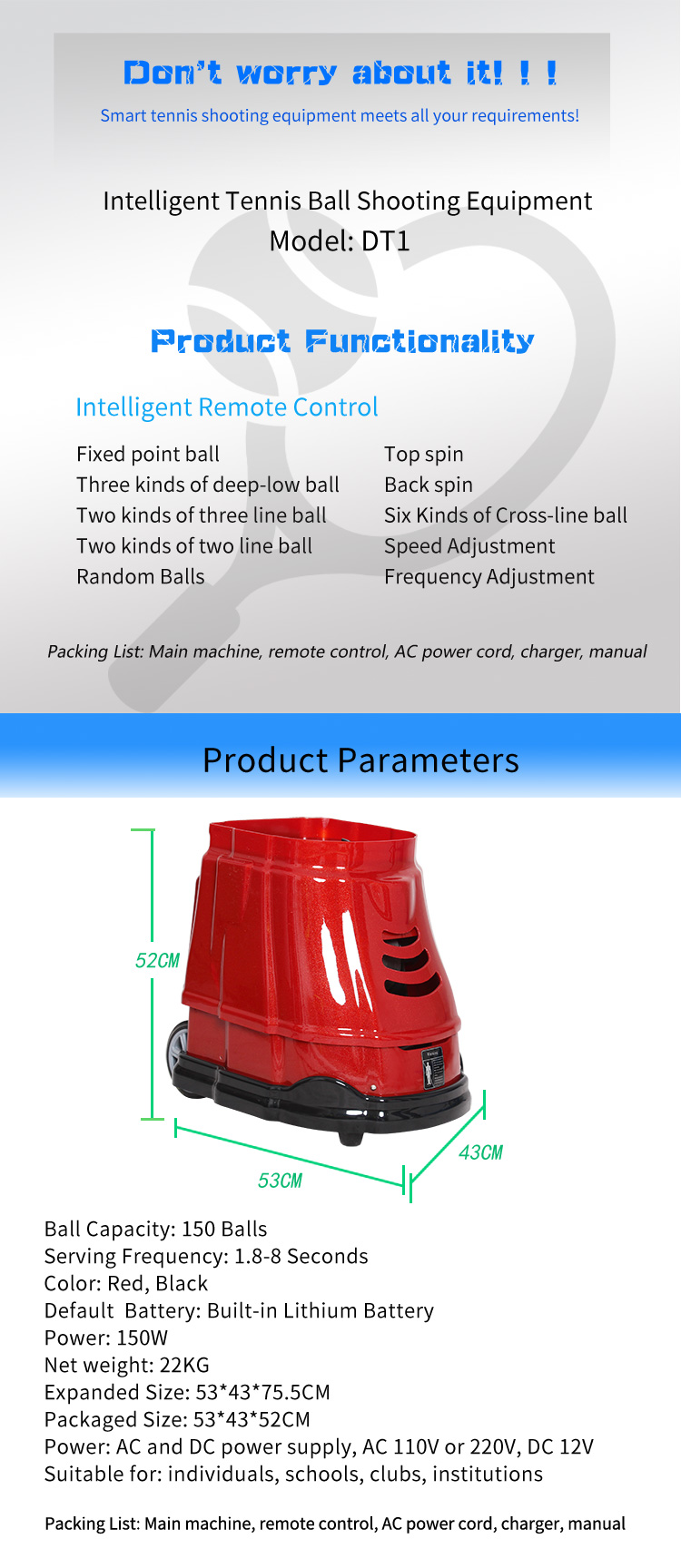 Product Structure:
Telescopic Rod, Ball holder, Main machine, Logo on the machine, Shooting Window, Portable Moving Wheel, Balanced pad
Product Details:
Full-function intelligent remote control (speed, frequency, angle, rotation)
Double power supply
AC 110V/220V, DC 12V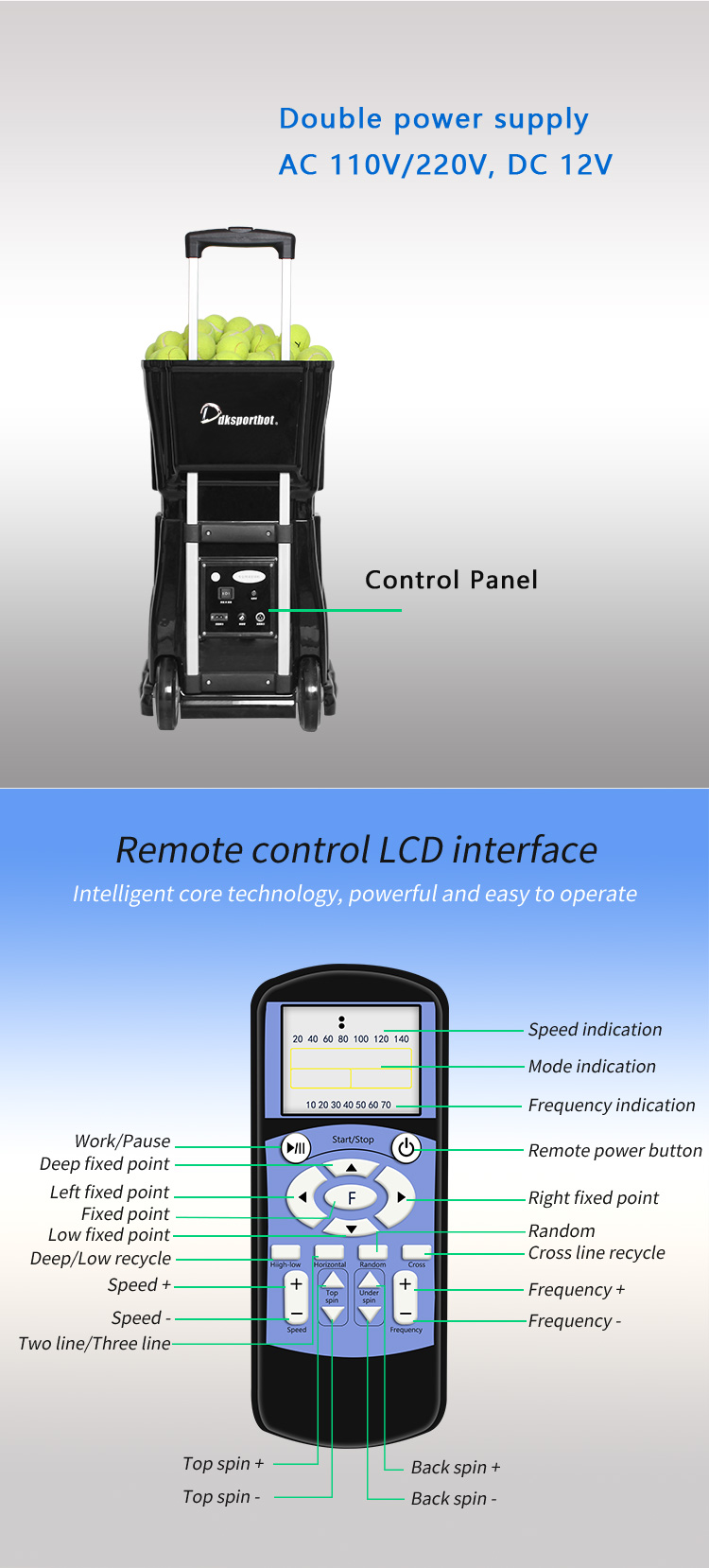 Remote control LCD interface
Intelligent core technology, powerful and easy to operate.
High-performance photoelectric sensor, the machine runs more reliably and stably.
Luggage telescopic rod
Can be folded and placed in the rear trunk of the car.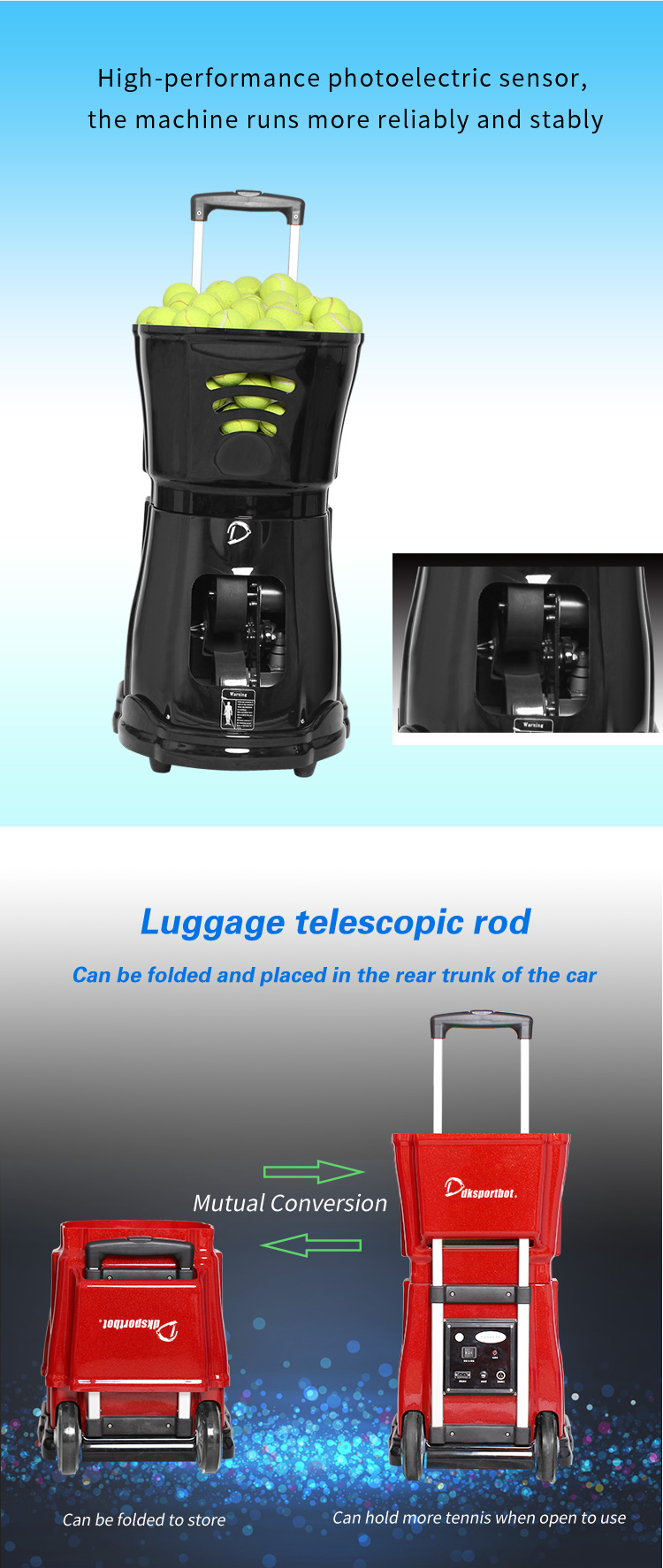 Large capacity battery for 3-4 hours let you enjoy the fun of tennis
Super power motor combination
Serving frequency: 1.8- 8 seconds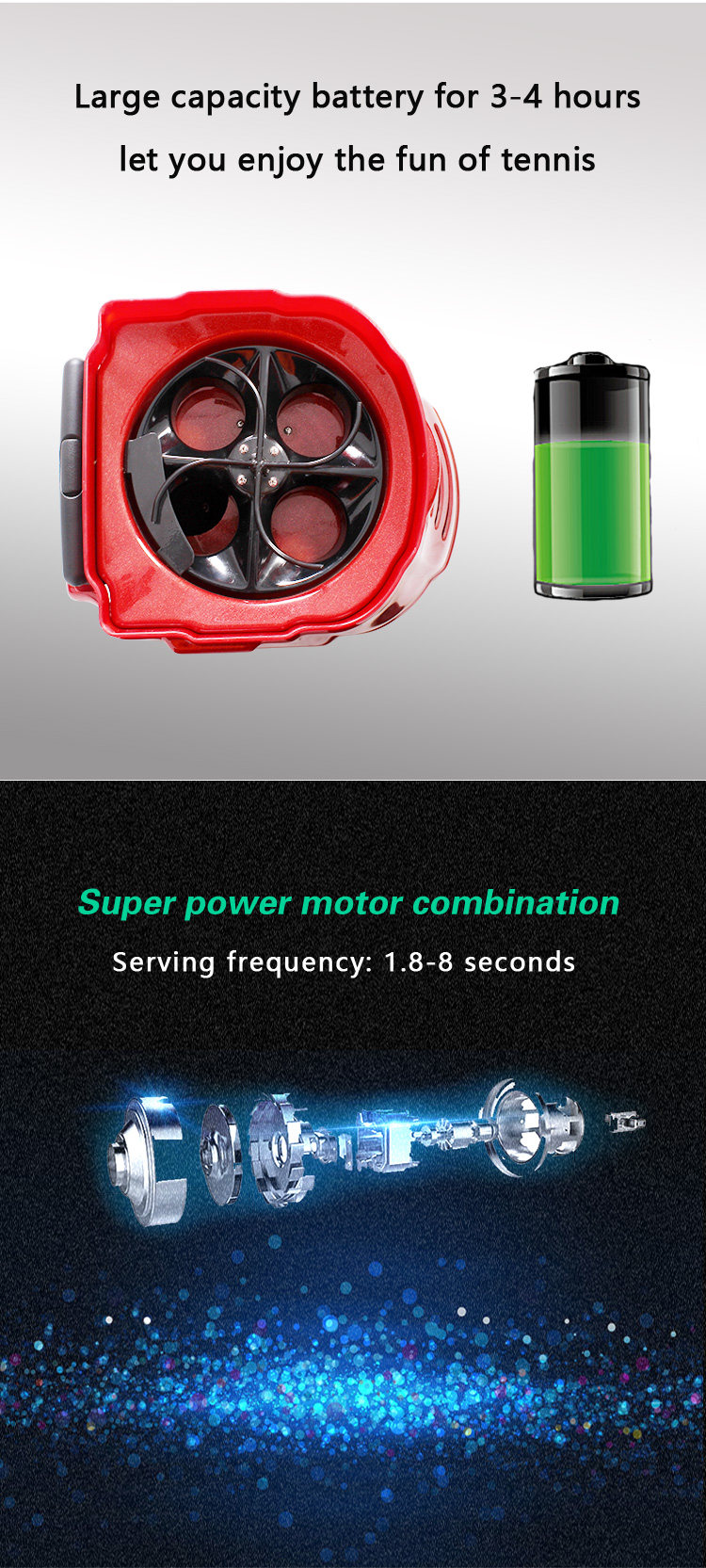 Low-decibel safety motor
life-long and durable
Professional special shooting wheel super soft rubber material, no damage to tennis.
Suitable for all kinds of tennis
No dirty balls, wet balls, or irregular balls to protect tennis machine from ball stucking.
Suitable for: individuals, schools, clubs, institutions.
Display of serving function
Fixed-point training program: Mid-line fixed-point training ball, forehand fixed-point training ball, backhand fixed-point trainng ball.
Deep-light training program
Three-line training program
Two-line ball training program
Random training program
Six kinds of cross line training programs
Other training programs: volley ball training program, topspin training program, backspin training program.
Customer Reviews
---
Previous:
Good Quality Shuttlecock Machine - New Arrival Automatic Ball Badminton Feeding Machine For Shuttlecock Shooting Training – DKsportbot
---